March has gone and went with barely a word of warning. I swear I was just complaining about how sudden February ended and now here I am, complaining about how March breezed by. Clearly, I need to improve my time management skills, maybe then I'd finally be more aware of how long a month lasts.
Anyway. I'm not normally the kind of person to prepare a TBR list at the beginning of the month. Heck, I'm pretty much notorious for overpiling my TBR shelves. However, this year I've made it a practice to come up with a reasonable reading list at the beginning of every month and – miracle of miracles! – I've done a fairly good job at sticking to it. I was pleasantly surprised at how much easier it is to pick up a book and start reading when I've already decided what books to prioritize at a given month. Turns out there is a real benefit to trying to stay organized. Who knew?
Honestly, I'm kind of looking forward to reading the books I've lined up for April. I keep forgetting that I have so many promising titles hidden away in my TBR shelves.
In any case, in no particular order, here's my April TBR:
Gilded Wolves by Roshani Chokshi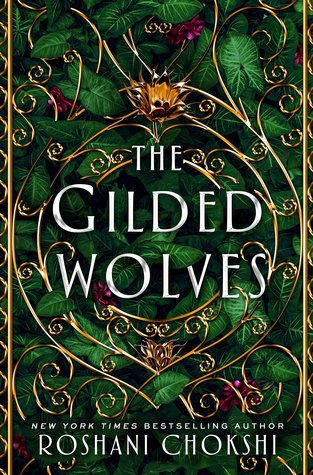 Not gonna lie, had it not been for my book blogger friends and book twitter, I don't think I'd ever give this book a second glance. The title initially led me to believe that it's about werewolves or something and were-anythings have never been my cup of tea – not because of Twilight, mind you, but because… well… bestiality.
However! It turns out that this book has nothing to do with werewolves of any kind. In fact, it's actually a heist story with a diverse cast of characters. Really, the more I heard about this book, the more intrigued I got. Bianca's review, I think, really sealed the deal for me. Since the blog tour for The Gilded Wolves, I've been eyeing local bookstores for a copy of it. Not until recently did I actually find a hardcover of this book though. Since I got it, I've been counting the days until I could read it in peace.
Heartless by Marissa Meyer
If you know me at all, you know that I absolutely adored Marissa Meyer's The Lunar Chronicles. I even wrote my first Book Talk on the series's masterful magic system. Because I thoroughly enjoyed Meyer's sci-fi/fairy tale retelling book series, obviously I had to get her next book, another fairy tale retelling only this time from the perspective of the "villain" of the classic Alice in Wonderland.
I've had a copy of this book for a couple of years now but I've kept putting it off for one reason or another. I think it's because I wasn't too encouraged by the reviews I've read of it on Goodreads. Nonetheless, I want to judge for myself if this book is good or not. Plus, I do miss Meyer's worlds and writing.
Starswept by Mary Fan
I found this book thanks to Shealea's Quick Kindle Steals post and was fascinated by its summary from the very first sentence. Sci-fi! Dystopia! Music! I just had to get it. Also, I don't think I've read a book about a violist before. A violinist, sure, but never a viola player. I'm pretty excited to learn more about the viola from this book. I'm not a musician by any definition of the word but I do appreciate music.
The Valley of Amazement by Amy Tan
When I picked up my first Amy Tan book – The Hundred Secret Senses from my uni's library – I genuinely had no idea what to expect. All too quickly did I fall in love with her works. I ended up reading all of the Tan books in the library (which, sadly, only had two other titles).
Like with Heartless, I've had a copy of Tan's latest book for a few years now but have been putting it off repeatedly until I damn near forgot about it. Honestly, The Valley of Amazement was part of my March TBR but, again, I kept neglecting it. This April, I swear I'm going to get into it. I've missed Amy Tan's historical fiction and family drama.
Illuminae by Amie Kaufman and Jay Kristoff
Man, I've heard so much love for this series for years now but only managed to get a copy of this behemoth of a book not too long ago. I know very little about this book except it's a space opera. Sci-fi books set in space aren't ones that I've had much experience with so I'm looking forward to reading this book in particular.
Three Dark Crowns by Kendare Blake
Yet another book that's been collecting dust in my bookshelf. I've kept admiring its cover though. Those crowns are gorgeous.
Girl Gone Viral by Arvin Ahmadi

Another sci-fi book that I've been looking forward to reading all year. From what I hear, this book tackles online stardom, virtual reality, and hacking – if that isn't a recipe for a kickass book, I don't know what is.
Magonia by Maria Davhana Headley
Not gonna lie, I got this book almost entirely because of its gorgeous cover. I've heard conflicting things about this book though which has caused me a little apprehension in picking this up. Hopefully, the story will be as beautiful as the cover.
The Wicked King by Holly Black
I was enamoured by the first book, The Cruel Prince, so naturally I had to get the sequel. The paperback that I bought was surprisingly slimmer than I expected though. I wonder how this book will fare when I review it for Sequel Sunday?
On the Come Up by Angie Thomas
Do I even need to say anything about this book? It's by the phenomenal Angie Thomas! I still think about THUG to this day.
Mistress Pat by L.M. Montgomery
I'm rationing my LMM books to one every month since I'm rapidly running out of titles to pick up. It's no exaggeration to say that I'm close to reading all of Montgomery's known published works. Hardcopies of her books are near impossible to come by – except for Anne of Green Gables, I guess – but, lucky for me, I have a supplier. Of sorts. Yeah, it's an addiction at this point.
---
And that's it! I'm hoping to read and finish all 11 books I've listed here. More importantly, I hope I won't be disappointed in any of the books I'll pick up next month. That's a bit much to ask, I know, but I want to be optimistic anyway.
What are you guys reading this April? Do you keep a monthly TBR list too or prefer to just wing it like I used to? I'd love to hear your thoughts 📖