Rather than starting off this post with yet another self-deprecating anecdote about my pathetic life, here's a mostly relevant gif instead: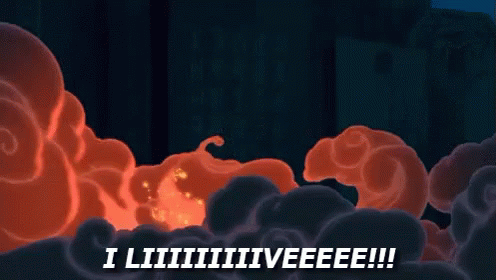 That's right, this series is officially a thing that I do on my blog now. The first Sequel Sunday of mine wasn't just a fluke that I can surreptitiously bury with each passing month. 2019 is the year I actually try to challenge myself to write better and more frequently.
But anyway. As I said on my first Sequel Sunday, this series aims to take a look at the second instalment of a book series and see if it holds up to the first. If it isn't already obvious, this post is dedicated to the second book of The Bone Witch trilogy by Rin Chupeco, The Heart Forger. (No Spoilers)
In The Bone Witch, Tea mastered resurrection―now she's after revenge…
No one knows death like Tea. A bone witch who can resurrect the dead, she has the power to take life…and return it. And she is done with her self-imposed exile. Her heart is set on vengeance, and she now possesses all she needs to command the mighty daeva. With the help of these terrifying beasts, she can finally enact revenge against the royals who wronged her―and took the life of her one true love.
But there are those who plot against her, those who would use Tea's dark power for their own nefarious ends. Because you can't kill someone who can never die…
War is brewing among the kingdoms, and when dark magic is at play, no one is safe.
Quick Review
I'll be honest, I was a bit daunted when I saw that my copy of The Heart Forger was 500 pages long. Normally, thick books don't intimidate me but I was worried that this book was going to take me longer than a month to get through and that I wouldn't be able to write a Sequel Sunday post of it on time. After all, Crooked Kingdom took me literally four months to finish even though I enjoyed it.
However, I realized quickly that my worries were unfounded because I straight up couldn't put down the book once I started reading it. I finished the book within days of starting it. I was riveted from beginning to the end. Closing the last page near broke my heart because I wasn't ready to leave Tea's world just yet. My only comfort was knowing that the last book, Shadowglass comes out sometime this year. And even that comfort is mingled with a little bit of dread, expressly knowing that something awful happened and will happen to Tea.
The series is supported by a strong cast of characters which I was glad to see more of in the sequel. Chupeco's skill at designing lovable but also complex characters really shone in The Heart Forger. Each supporting character had a distinct voice so that even in certain scenes where a lot of people were present, I never got lost in the dialogue. I knew exactly who was saying what. That's some strong characterization right there.
To put it simply, The Heart Forger was an incredible book that both gave me the mundane but still important insight that human relationships are as beautiful as they are complex and the delightful experience of being in a fantastical world where magic solves problems and creates them in the same breath.
The Bone Witch vs The Heart Forger
The Bone Witch was ultimately the story of Tea studiously working her way up with glimpses of the present Tea plotting to get her vengeance on the very society she had tried so hard to serve. The first book was more focused on establishing Tea as a character, with a bit of action and mystery at the end to tie it all together. Had I not been told in advance that this was the case, I don't know if I wouldn't have been put off by every other chapter – set in the present – being in italics. Years of reading fanfics of varying levels of quality in FF.net have not made italicized chapters very appealing to me. Ironically enough, italics usually meant flashbacks in fanfics but are the opposite in this book series.
However, it was easy enough to grasp The Bone Witch's designing principle and I quickly enjoyed the story as it was. In fact, I rather appreciated the multiple layers to the novel. It wasn't just Tea's past and present story; it was also the Bard's little adventure. The first book was, if anything, a smooth and steady ride that led me to the real meat of Tea's story. Or at least, the beginning of it.
The Heart Forger, in contrast, was Tea's rise to power with flashes of the present Tea destroying her own legacy. Unlike in the first book, the two perspectives mirrored each other in some way so two action-packed stories are happening at the same time. In Tea's present, we get hints of what happened in the past which makes those chapters all the more interesting.
I enjoyed this unconventional designing principle much more in the sequel because the two contrasting stories gave each other more flavor. Knowing how bitter and vengeful Tea becomes makes the past feel ominous and tragic. And seeing past Tea so full of optimism and hope makes the present so much more poignant.
The Winner
The Heart Forger is, in my opinion, the better book but only because it had a more cohesive and focused storyline. The action and mystery weren't tacked on at the end but were the focal point of the book. I still love the slow burn of The Bone Witch but, storywise, I prefer The Heart Forger.
Furthermore, the sequel also had the characters introduced in the first book interacting with one another. It was a real delight seeing how the different and contrasting characters played off of one another.
Does it Hold Up?
Not only does The Heart Forger hold up to the promise of the first book, it transcended the fairly simple autobiographical story of The Bone Witch to a intricate and multi-faceted epic of one girl's vengeance on the whole world. I can't even imagine what the last book, Shadowglass, will bring to the table. I've heard that it's caused emotional devastation among its early readers. I, for one, can't wait for it.

---
That about does it for this Sequel Sunday post. Seriously, if you read The Bone Witch and weren't all that pleased with its slow pacing, give The Heart Forger a try before dropping the trilogy entirely. Trust me, the build-up is totally worth it.
Next month I'll be looking into, well, not a sequel per se but a companion novel which I'll count as a sequel nonetheless. I'll be reading Julie Murphy's Puddin' , a book that follows the events after Dumplin', one of my favorite YA contemporary book of last year. It's gonna be my first non-fantasy book for this series and I'm quite excited.